Edna Bosworth – Bronze Life Master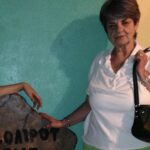 Learning to play bridge, was one of  the best things I ever did. My husband was an avid bridge player, so I had to learn. You know how the husband teaching the wife works – it doesn't.  So I went to our local YWCA and took lessons.
 In 2008, after my husband died, I came to live in Delaware.  I was alone & didn't know one person.   Fortunately, the community I settled in had a social bridge game.  It was fun, bridge and lunch.
I met a lot of nice people, one of whom asked if I would like to play duplicate bridge.  I had only played  duplicate a few times in my pre-Delaware life.   My new friend & I set off to Ocean View, Dini Romito's game.  Social bridge is interesting but duplicate is even more so, I thought.  I liked it very much and played twice a week at Dini's game, then at Dorothy Hand's game and Anna Delapo's game in Rehoboth.
Over the years I traveled to many tournaments.  During Covid, I played from my couch in virtual clubs.  Entering the Bridge at the Beach tournament, I had garnered enough black, red & gold points so I only needed 0.05 gold for Bronze Life Master.
Getting 0.05 gold at home, in Rehoboth Beach, just made it that much more special.  My team, Bob Breen, Cindy Hoardley & Marilyn Haskins were excellent!
Thanks to Kim Holm for running a wonderful tournament and to the ACBL.