Buddy Hano – Platinum Life Master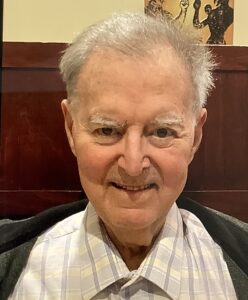 I began playing bridge in Trenton with my great grandmother at the age of 6. Honeymoon bridge was its name. Both of my parents were avid bridge players so it came easily. Friends like Hy Lavinthal were great teachers as I played in college and got my first master points.
When I moved to York, PA I joined White Rose Bridge Club which is where I met my favorite bridge partner and wife, Joann.
By 1984, I became a Life Master and certified director. Before the days of stratification, if anyone asked me to help them become a Life Master, I would play with them till they reached their goal. I did this for about 10 people including a 100 year old woman.
Over the years, another partner who helped me reach my goal was Mike Zeller. Another supporter who encouraged me was Ed Scanlon.
I remained active in bridge especially liking the Lancaster Regionals and Philadelphia Nationals.
When Covid hit, it opened a new source of online points because our local clubs were closed.  At 80, I never thought I would live long enough to reach this goal. I just want to thank all of my many partners who helped me make this platinum milestone.