2023 Goodwill Committee Appointee: Mark Cohen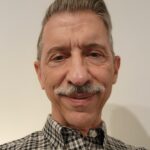 As a bridge enthusiast, Mark Cohen sprang into action after hearing the Valley Forge Bridge Club was closing.  He and other local players considered options and determined a member-owned club was right for the local community.  This resulted in the creation of the King of Prussia Bridge Club (KoPBC), in which Mark serves as Club Manager.
It was in his capacity as Club Manager that he answered the call to organize Unit 141's first post-pandemic Sectional at KoPBC.  No small feat, since it required a pre-registration process, enforcement of ACBL Covid regulations, and providing a lunch for players.
More recently, Mark also agreed to take on two more major roles for District 4.  Beginning in 2023, Mark will serve as Co-Chair the Philadelphia Regional at Valley Forge (along with Betsy Cutler).  And he also stepped up to the challenge when asked to play a leadership role in the 2025 Summer NABC in Philadelphia.  He will serve, along with John Dickenson and Betsy Cutler, as one of the "Tri-Chairs" for that event.
Did I mention that Mark still has a "day job" as a Real Estate agent?  What's that old saying… "if you want to get something done, ask a busy person to do it".  Mark fits that description – in spades (or hearts, or diamonds, or clubs)
---
Mark's Backstory:
Mark started in bridge by helping out after playing in games in New York City clubs. He became an employee and junior partner for 13 years at the Beverly Bridge Club, and also served on the ACBL Board of Governors.  Upon returning home to Philadelphia, family and work kept him out of bridge for 25 years.
It was during the pandemic that Mark helped create the King of Prussia Bridge Club where he now serves as volunteer manager. He ran the April 2022 PCBA Sectional and hosted 4 I/N Sectionals at KOPBC. Mark is running for the Unit 141 Board and will also be a Chair of the Valley Forge Regional and the Philadelphia Summer Nationals in 2025.
Mark is a Gold Life Master and in his 30th year as a local residential real estate agent. He lives with his husband Marty Johnson in Audubon, PA.