Lianger Gong – Junior Master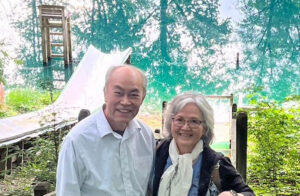 I started to play the pair game in my club – the Bridge Studio of Delaware in this January, where the manager, my partners and the members all help me to achieve my bridge goal – happiness in my life journey.
My playing bridge history went back to the early 1980s since I was a graduate student in Beijing, China. My roommate taught me to play the bridge with the precision bidding system. Four of us played together for a year during our lunch break time.
A few years ago I started to play online at Bridge Base Online. Now I live in Claymont, DE with my wife and enjoy to play in our club.
Below is a lesson for me missing a prospective grand slam: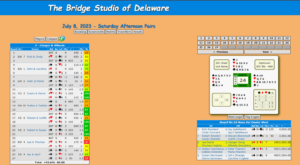 The result: W (Mikaela) starts bidding 1S, N passes, E (Lianger) bids 2 D(2/1 Gaming Force), S passes; W bids 2S, N passes, E bids 3 D, All passes. N leads DJ; EW won 7 Tks.
The optimum: EW 5 NT. The biddings might be : 1s / 2D /; 2S / 4C (asking Aces) /; 4H (1 Ace) X 5C (asking Kings) /; 5H / 5NT /; all passes
The prospective game is 7D W if South leads anything except for a heart.