Jack & Dave Willgruber – Life Master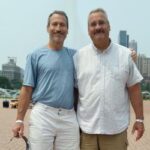 Written by Jack Willgruber
Bridge has always been a family affair for my brother Dave and me. Over 50 years ago, our parents would invite some of their friends over for a Saturday evening of drinks, hors d'oeuvres, and some friendly contract bridge. As the evening wore on, the cigar smoke got more pungent, the hand post mortems intensified, and the adults became much less focused on how many snacks us kids were stealing from the table.
My mom learned early on raising 7 kids (6 of us being boys), that it was better to teach us games rather than leave us to our own devices, which would usually lead to some sort of mischief or household destruction.  So, my Mom bought a Charles Goren bridge bidding tablecloth and soon was conducting bridge lessons for her card playing children. That was it.  We were hooked.  For the next 20+ years or so contract bridge became the family card game of choice and was good enough for my brother Dave and me until we started to get a more competitive itch that needed to be scratched.
So, sometime in the late 1990's Dave and I made our first foray into the duplicate bridge world at the Raffles Bridge Club off City Line Avenue. For the past 20+ years, Dave and I have not gotten to play as much bridge as we would have liked (due to work and life commitments), but we kept at it and played enough over the years to slowly but steadily accumulate masterpoints.
Fast-forward to this year when Dave and I qualified for the Flight C GNT in Chicago with our long-time teammates Jeff & Lou.  Entering the tournament, Dave had over 290 master points but I had only 277.67 points. That said, by making it to the semi-finals of our Flight C GNT tournament, we ended up receiving 22.5 masterpoints. That meant I just made the Life Master ranking by a fraction of a point!  Whew!!!! But even more gratifying was to be able to cross that Life Master ranking threshold at the same time as my brother Dave. Our Mom & Dad died a year and a half ago, but somehow I felt them both with Dave and me while we played in Chicago.
The picture shown is of Dave and me in front of Buckingham Fountain on the shores of Lake Michigan.  As I said, bridge has always been a family affair to me.