Roger Woodin – Platinum Life Master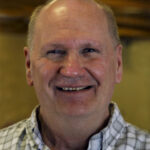 If I may, I'd like to go back to the beginning 1969 at Virginia Tech. in Blacksburg VA.  I was walking down a dorm hall when I peeked in an open dorm room where 4 guys had 1 suitcase standing on end and another on top playing a card game.  Being from New York but going to college in Virginia, I said "what are y'all doing?"  They responded, playing bridge, whereupon I responded "may I watch" and they said yes.  It wasn't long before I asked "can I join" and again they said yes, and again it wasn't long before the game spilled out into the floor study lounge and became almost a 24 hr game.
We had a small duplicate game at the student union and played against some professors.  One was a math prof., Dick Barnett.  I basically had 3 partners Jim Adkins and I played S. A. Mark Bregman Precision Jannerstan style and K-S with Bill Covey.  We would travel to Pearisburg and play against a Congressman, Jeff Stafford or travel to Roanoke and play against The Smoots.
We decided to go to Richmond to play in a sectional, played against Kit Woolsey and Steve Robinson, I cashed 2 aces against a slam and Kit turned to me and said nice defense kid but alas we didn't win a match, and drove back to Tech with our tails between our legs… but not deterred.
I moved back to Delmar NY,  was married, and eventually had 3 wonderful daughters.  I worked long hard hours but played some bridge when I could.  My wife Joan was understanding, well at least I think she was. I had some good partners there Albert Ross, Tony Prindle and Rhoda Kratenstein to name a few. I also had the privilege, at the Fireside Tavern over some white wine and popcorn or pizza, of listening to Lynne Deas as she held court.  She truly was a class person.
Eventually I moved to Rochester (my wife had passed away too early) to be closer to my daughter Ashley.  I searched out the local games. The directors  Cheryl and Duncan Doug, and Bruce were very welcoming.  I have played with many players from Rochester and won't list them all for fear of leaving someone out (after all I still see most of them except for Doug Ross).  All the people in RABA, Unit 112, and District 4 over the past 9 years have been exceptional in providing a great bridge experience.  I wouldn't change a thing.