Jane Bovard – Life Master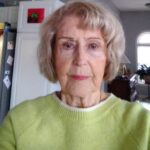 I have been blessed with a Mentor. He has taught me the conventions and has tested me constantly. I have read books on bidding and the play of the hand. I love the game so it wasn't a hardship. I was a work in progress for a long time. Some of the best advice I was given: "Play up" and my favorite: "It's history let it go".
I have found the one thing that was hard to achieve is confidence. To go into the game and say to yourself – I know the conventions, relax and think. Listen to your partner, it's a conversation and don't try to play his hand. Obviously, these are some of my faults. Duplicate Bridge is a wonderful challenge.